Weekly Weather December 15, 2014
The greatest thing you'll ever learn is just to love and be loved in return.  ~ Nature Boy Eden Ahbez
Happy Hanukkah!!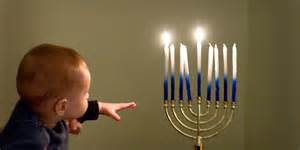 Give (or ask for) a Gift Certificate for a Reading!  It is fast, fun, convenient, ecologically sound, doesn't take up shelf space, require dusting or expire!  Purchase the amount of time you'd like to give, tell us who it is for and we will send you a PDF Gift Certificate to print out and give! Buy it sooner rather than later and you'll have your shopping finished! There is a tab on the website for Gift Certificates! You can even buy one for yourself for a very Merry!
Nature Boy ~ Eden Ahbez
There was a boy
A very strange enchanted boy
They say he wandered very far very, far
Over land and sea
A little shy and sad of eye
But very wise was he
And then one day
A magic day he passed my way
And while we spoke of many things
Fools and kings
This he said to me
"the greatest thing you'll ever learn Is
just to love and be loved in return"
Sagittarius is all about vision, hope, and rebirth after the ending energy of Scorpio.  We focus on our vision for our future.  We celebrate the resurrection, the redemption and the continuation of life. Imagine a room full of flickering candles. Fire can share its energy without being diminished.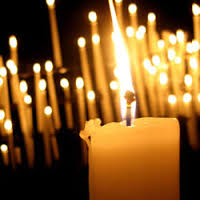 The next few weeks are quite WILD!  There are lots of planetary changes and activity.  Expect major changes in many areas of your life and the world.  During weeks like these, it is often best to sit back and watch what happens.  After it is all over, process the information.  Similar to watching a three ring circus, you'll have trouble keeping up with everything that goes on. Keep watching. Pay attention. And when the weeks are over, share information on what you saw with other people so you get the full story and find out what THEY saw that YOU missed.
The week gets off to a fast start with Uranus and Pluto squaring each other on Monday.  This Uranus/Pluto square 6 of 7.  Pluto wins this one as he is direct and Uranus is retrograde.  However, Uranus is stationing this week so he's going to be PRESSING in on that square's energy all week. Expect the unexpected and crazy actions and information. Pluto's power has been showing up and winning.  Uranus in charge of change, has been losing.  Now that starts to shift, after a round where Pluto wins big and perhaps discourages Uranus from pressing for change.
As Uranus and Pluto square each expect their tensions to continue to build, build, build. This can show up as anxiety or lack of sleep.  Plus a pushing, crazy making schedule.  Leave holes and blocks of time UNBOOKED as things will pop up and demand that attention be paid.  Right now, Pluto is direct and Uranus is retrograde which is playing out in our culture as the recent decisions in Ferguson, Missouri and Staten Island, New York about police (government power ~ Pluto) not being held accountable for (square) actions that suppress the freedom and take lives of black men (freedom for all of us ~ Uranus).  New York had protests and die ins last week all over the place as people of all races, ages and demographics took to the streets with indignation. What is our vision?
As Uranus and Pluto square each other, they ask us to evolve. So expect an evolutionary push this week as their push at each other and build.  Where do you find yourself wanting to run away and join the circus (or lay down in the streets in rebellion)?  Where do you want to exercise power or feel power being exerted on you? What are the evolutionary steps you need to take?  The two of them are going to be traveling together for the next three months, pushing, pushing, pulling, calling and poking at us to evolve and change.
Uranus stations and turns direct on Sunday, December 21, 2015 to travel direct in motion until July 26, 2015.  He's back at the degree of April 3, 2014, right before the Spring 2014 eclipses.  We feel the intensity of Uranus' station five days before and after Sunday ~ from Tuesday December 16 to Thursday December 26. Crazy, anxiety, change, breakthroughs, new ideas and chaotic pressure builds and shifts direction. Uranus stopping in Fire makes fire energy very volatile.  Uranus stopping and turning direct AMPLIFIES the Uranus Pluto Square (part 6) from Monday December 15.  Uranus goes for the third time over the patch of sky in Aries from 12:34 to 16:30
Saturn is traveling through the last bits of Scorpio this week. He'll kick up the story he began in October 2012 to "close the matter down" and see what you've learned.  Answer his questions or deal with the situations deftly so he knows you have learned your "lessons".  Starting this week, everything Saturn touches can and probably will be renegotiated this summer.  We enter the "figure-it-out-and-make-some-changes,-renegotiate,-revise,-make-some-MORE-changes,-and-then-for-the-third-and-final- time- make-MORE-changes-and,-go-forward-to-what-you-REALLY-want!" Saturn will move back and forth between 28:16 Scorpio and 4:55 Sagittarius until November 8, 2015.  Three passes, three wishes, three strikes and you are either out or on base… you know the drill.
Saturn (or any planet) at the end of a sign brings back the memories and events of when he entered the sign.  It is kind a cosmic shout out to the early days. Between now and the 23rd of December when Saturn enters Sagittarius we are working with Saturn at the anorectic degree ~ the last moments of time pushing us back in time and space to the earlier time to remember, reimagine and redeem our selves and our journey through time.
Mercury and Venus are BOTH out of bounds.  Mercury enters Capricorn so communications get serious.  Communications and relationships are not following the rules.  They are overdoing and out or control ~ over emotional, over the top, over excited, over compensating ~ over, over, over!  Someone wrote to me asking why so many women were being set on fire ~ Venus is out of bounds aspected by the Grand Trine in Fire ~ Jupiter sesquiquadrate and Uranus square as she approaches her conjunction with Pluto.  Sometimes the aspects are hard.  Certainly SONY with their email hacked and published matches the out of bounds Mercury.
There is a huge Grand Trine in Fire with the Sagittarius planets Mercury, Sun, Ceres, and Venus trine to stopped Jupiter in Leo with Juno and trine to Uranus, South Node, and Eris in Aries.  Fire Grand trines by their very nature are out of control.  Fire is a masculine, YANG energy that consumes.  You can run out of energy so leave space in your calendar for rest.  You can have unexpected "fires" to put out in the houses in your chart ruled by Aries, Leo or Sagittarius. And truth be told ~ you are going to spend most of the first half of 2015 cooking with these fires in those houses so you might as well settle in for some heat!
Mercury enters Capricorn on Tuesday December 16 at 10:53 pm.  Mercury is out of bounds in Capricorn. Mercury is out of bounds until January 1, 2015.  Hard truths come out. How to work with Mercury when he's answering to Saturn? Complete honesty!  Tell the truth! There can be computer, bank and  problems. Back those computers up!
Venus in Capricorn is out of bounds until December 25, 2014. Expect people, love, desire and financial matters to be a bit wild and out of control most of the holiday season.
How to work with her? Venus is serious and focused when in Capricorn.  She pushes rather hard for what she wants. Love can get serious! Expect passion, relationships, and ah-ha moments from the Goddess of Love.
Sun and Mercury are traveling together. Mercury joins the Sun so folks think they are right.  Combust Mercury out of bounds can result in shocking news or unexpected changes that appear out of nowhere.  And it can be GOOD news out of nowhere too! Be careful driving as folks are distracted. Mercury, Ceres and the Sun aspect the Nodes of Destiny this week on Monday and Tuesday so make sure to follow up on all connections, get the business card, touch base, pitch the deal or go for what you want. Excellent timing! Launch the project. Get creative stuff out the door and in front of someone. Juno aspects the Nodes on Wednesday so deals can take place then too ~ just try to not sign until Friday's better aspects.
Monday and Tuesday are great days to get things accomplished with Moon in Libra with positive closing aspects.  Wednesday and Thursday the Moon has crappy closing aspects of a psychological square to Saturn.  People are going to be highly reactive to disrespect, disloyalty, underhanded approaches and more often than not will project their issues onto the other ~ expect snarky remarks and difficult information.  Friday, Saturday and Sunday, Virgo Moon makes the days busy with a productive and creative aspect to Saturn.
Void Moons in the Week Ahead:  When the Moon is Void, it is wise to avoid making important decisions as they tend to be unrealistic, and subject to false starts, errors or unexpected hassles.  Avoid being concerned with things beyond your spiritual center.  It is time for subjective, spiritual and non-materialistic concerns.  Kick back, let life flow, and center yourself.  Connect into your essential oneness with the Universal Forces.
Moon goes void sextile to Sun on Wednesday, Dec 17, 2014 at 00:40:50 am EST.
Moon enters Scorpio on Wednesday, Dec 17, 2014 at 09:52:48 am EST. Moon is void Wednesday in the early morning hours.
Moon goes void joined to Saturn on Friday, Dec 19, 2014 at 04:12:15 pm EST. Moon enters Sagittarius on Friday, Dec 19, 2014 at 04:56:12 pm EST.
Moon goes void trine to Jupiter on Sunday, Dec 21, 2014 at 07:35:08 am EST.
Moon enters Capricorn on Sunday, Dec 21, 2014 at 08:26:07 pm EST.  Moon is void all day Sunday.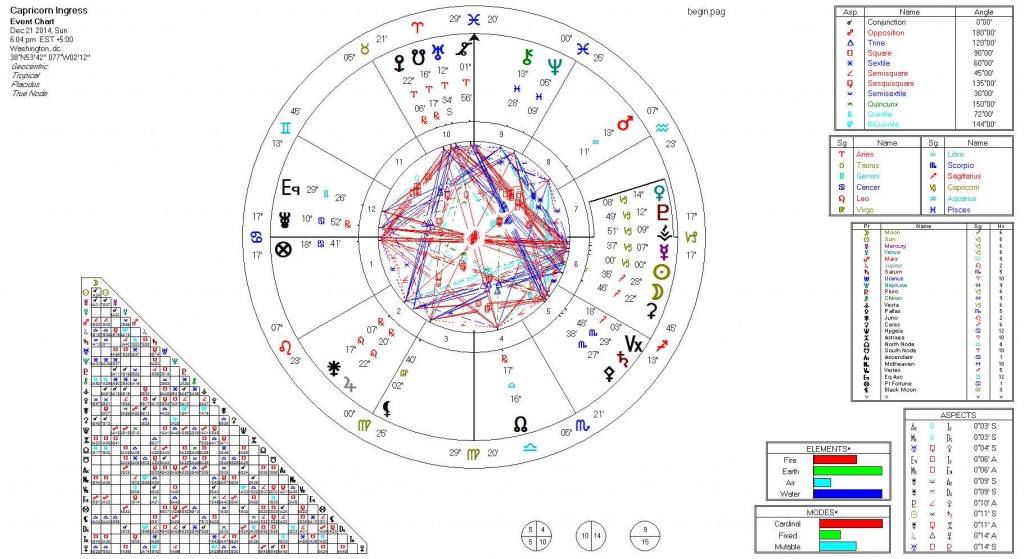 The Capricorn Ingress and New Moon take place a few hours apart on Sunday at 6:03 pm EST and 8:36 pm EST respectively.  The Ingress has a last degree Sagittarius Moon square to the Midheaven at 29 Pisces.  The Midheaven is also receiving a trine from Saturn at the last degrees of Scorpio.  The chart is focused on endings as well as  the public of the United States ~ the working people.  Expect the next few months to focus strongly on the needs ~ economic, work, personal and problematic of the work class and military.  Some folks use this chart as the chart for the YEAR. Others, myself included, like the Aries Ingress chart.  Regardless whether year or season of winter, we are going to be REALLY flying through the next few months (or 12 months) as the chart demands an accurate accounting and valuation of people
The New Moon chart, a few hours later, focuses on where we are individually called to do our work in the world.
Both charts make fine use of the Grand Trine in Fire to accelerate the energy of the current time and shape shift it into our unique visions of the future.  We are each incarnated to DO or BE something.  Are you doing it? Are you being it?  That way lies redemption and peace.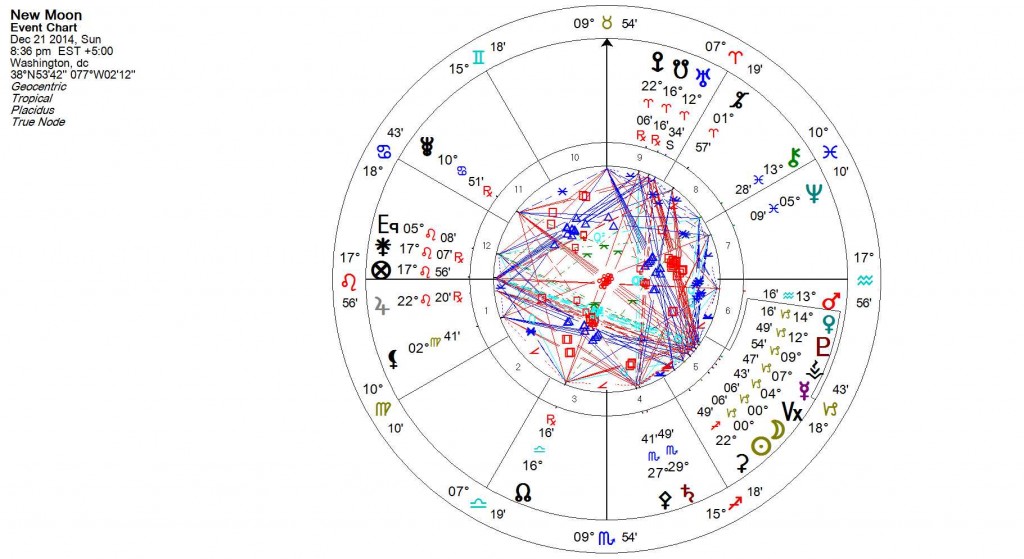 The Sabian Image for the New Moon on December 21, 2014 is AN INDIAN CHIEF CLAIMS RECOGNITION AND POWER FROM THE ASSEMBLED TRIBE
Lynda Hill's interpretation of the Sabian Image is : Commentary: 'An Indian Chief Claims Recognition and Power From the Assembled Tribe' shows a person in a position of authority, standing strong, staking their 'Claim' and place amongst the people that he or she leads or represents. This is a Symbol associated with the Jesus story. Jesus' karmic lesson was to rise above the crowd; to claim power in situations, places and with people; and to accept any consequences that such a 'Claim' could lead to.
Oracle: There are leadership issues here. Sometimes we need to rise to the occasion and take charge, and this is most likely one of those times. This can lead to a struggle for control. You may be challenged to remind those around you of your leadership qualities and your ability to be strong, reliable and accountable. There's the need to stand up in front of others and be counted as someone who has what it takes to lead. As long as nobody is "lording it over" others, life can operate in a smoother manner, with everyone understanding their place in the scheme of things. We all have to find the courage to stand up and exhibit a show of strength now and then. However, there can be the flip side: are those above you reminding you of the lesser position you occupy in the scheme of things? You can find your own internal authority by believing in yourself, by 'Claiming Recognition and Power' and acknowledging your nobility and courage. There can be challenging events happening in the external world, a battle of wills perhaps, but if you stand strong and firm in your inner belief in yourself, you can come out victorious with a greater sense of authority radiating out to those around you. People will take you more seriously. Always know when to listen to and give way to the rights of others and you'll be given a stronger position in society.
Keywords: Assuming authority and the need for it. Benevolence bestowed. Winning by charisma and strength of numbers. Finding a true sense of place. Signs that one should be in charge. Staking one's claim. The 'Claim of Recognition'. Respect. Having to stand up or stand out in the crowd. Having the charisma of leadership. Consolidating power. Popularity contests.
The Caution: Power tripping and struggles. Over-inflated views of one's self. The continual need to quieten power battles. Being challenged by those left and right. Demanding attention and that others follow orders. Taking over. Selfish and ego-driven. Too many chiefs.
Self-reverence, self-knowledge, self-control, These three alone lead life to sovereign power. Alfred Tennyson
Becoming number one is easier than remaining number one. Bill Bradley
A lot of young girls have looked to their career paths and have said they'd like to be chief. There's been a change in the limits people see. Wilma Pearl Mankiller
There are two things people want more than sex and money – recognition and praise. Mary Kay Ash
A basic rule for managers is "Pass the pride down." People like to create when they can earn recognition for their ideas. When a good idea surfaces, the creator's immediate superiors should show prompt appreciation. James L. Hayes
What every genuine philosopher (every genuine man, in fact) craves most is praise-although the philosophers generally call it "recognition"! William James
He is not fit to command others that cannot command himself. Proverb
Moon day Monday December 15, 2014 ~ Moon is in Libra, going void sextile to the Sun on Tuesday night/Wednesday morning.  Today and tomorrow are highly productive.  Uranus has its sixth of seven squares to Pluto this morning at 12:13 am EST, but you'll feel the anxiety and the tension for five days on either side.  This is a MAJOR planetary event – a struggle between powers-that-be and the impulse for freedom.  Pluto is direct, so he's winning against retrograde Uranus.  See the recent police shootings, the torture report, new banking regulations that put taxpayers on the hook, the Bill Cosby rape allegations, and the Sony email hacking.  In each case, Uranus (chaos, independence, computers, groups) is facing off against Pluto (power, control, rape, murder, torture, secrets).  Pluto is getting away with it for now, but never fear!  Uranus goes direct later this week.  And we have the seventh and final square between these two big guys coming up on March 15, which really is the one to watch.  Between now and March, we see lots and lots of unchecked abuse of power.  After March, the balance shifts.  Venus joins Vesta tonight, inviting you to try a new approach to keeping your house clean and beautiful.  Simplification helps.  Minimize clutter.  Juno stations to go retrograde at 17 Leo, asking us to solidify partnerships.  Moon's square to Venus and trine to Mars means you can't always get what you want, but you do get what you need.  Never fear!  We can revise it a little down the road.  Keep moving forward and getting your to-do list checked off.
Mars's day Tuesday December 16, 2014 ~ Moon in Libra, going void sextile to Sun just after midnight on Wednesday morning.  Today, like yesterday, has the potential to be incredibly productive.   Last night there were lots of restless dreams, an inability for you to tuck yourself in and get a good night's rest.  The dreams are part of your emotional processing, as you try to make sense of this restless Pluto-Uranus square energy.  The Moon's sextile to Jupiter encourages productive collaborations.  There's a bit of stress around overdoing and overspending early in the day.  It's nothing too serious, but funds (and love) feel a little more limited than usual right now.  Since Venus is in serious Capricorn, she wants us to make decisions in a "grown up" way.  Tone down the frivolity.  Good time to focus on your finances, and pay attention to what's really important.  As they sing in Nature Boy, "The greatest thing you'll ever learn is just to love and be loved in return."  Tonight, Mercury enters Capricorn till January 4.  He is still out of bounds, but communications are more sober and serious than when he was in Sadge.
Wednesday Mercury's day December 17, 2014  Happy Hanukkah!  The Moon in Libra goes void sextile to Sun at 12:40 am EST, in the wee hours of Wednesday morning.  Moon enters Scorpio at 9:52 am EST, going void with a conjunction to Saturn on Friday afternoon.  Today, tomorrow, and Friday are SERIOUS days, on which you'll receive serious messages and essential information.  This Moon-Saturn marks an ending – and also a replay of the past 2.5 years, since August 2012.  As Saturn prepares to leave the sign of Scorpio, he is sending you a pop quiz that echoes the beginning of his journey in the sign.  Stories from August and September 2012 resurface, dancing across your desk and your mind.  When Saturn comes a-calling, make sure to answer his questions directly and forthrightly!  No fibs!  He WILL be calling over the next few days.  Answer correctly and you progress to the next level.  Fail to answer properly, and Saturn isn't going to be nice about it.  Venus opposite Kronos suggests we have to think about the long-term value of things.  Pay attention to what's been around for a long time, but may not work anymore in the way it used to, and pay attention to the staying power and potential long-term value of things you're inviting into your life.  Mars quintiles Eris this evening, encouraging us to take positive and productive action on any envy or jealousy that we feel.  As you reconnect with family or gather around the menorah, stay focused on YOUR journey and what YOU want to create in your life.  It's not about what they have.  Mercury's quintile to Chiron offers an opportunity for healing words or healing remembrances.  Communication with family and siblings, communication through dreams.  Get clear about how you want to work with these parts of your life.
Jupiter's Day Thursday December 18, 2014 ~ Moon is still in Scorpio, going void joined to Saturn on Friday afternoon.  More Saturnian questions come to light, asking us to hurry and wrap up our two-and-a-half-year journey with Saturn in Scorpio.  Watch for Saturn to appear today and ask you what you've learned over the past 2.5 years.  He COULD be coming to you in a dream.  There are not a lot of other aspects today.  There may be a determination not to be taken for granted or to made subservient anymore.  Don't bite their head off.  Just tell them you're not playing it like that anymore.
Friday Venus's Day December 19, 2014 ~ Moon in Scorpio goes void joined to Saturn at 4:12 pm EST.  Moon enters Sagittarius at 4:56 pm EST, going void with a trine to Jupiter on Sunday morning.  Today's Scorpio Moon continues the wrap-up of Saturn in Scorpio.  Expect a final emotional quiz about what's important to you and why.  He may or may not give you credit for what you WANTED to do, but didn't.  Answer all questions as honestly and straightforwardly as you can.  Mercury in Capricorn answers to Saturn in Scorpio too.  Trust me, they will figure it out if you aren't direct and clear.  Health matters can resurface this morning so pay attention to them.  When in doubt, go to the doctor sooner rather than later.  Mercury, then the Sun, forms an inconjunct to Admetos.  You can get word of a permanent ending, from a situation that definitely needed to end, even though you weren't 100-percent sure you wanted it to.  Venus dances with Mars in his blind spot.  She knows what she wants from him, but she just can't get it (for now).  The Sun's connection to the Galactic Center inspires but confounds.  Lots of information is coming toward you, and you're not quite sure what to do with it.  Pay attention anyway.  This will come in handy down the road.  Venus's semisquare to Pallas Athena encourages you to get serious about changes in your behavior.  She does it by pointing out the consequence of failure to change.  Venus is in a difficult place right now, as she approaches her conjunction to Pluto in Capricorn.  She isn't suffering fools very well.  Love, relationships, and money can have a slightly harsh tone.  Vesta's parallel to Ceres encourages you to do something that makes you feel nurtured and cared for on the home front.  It's kind of wild out there.  Take time to take care of yourself.
Saturn's Day Saturday December 20, 2014 ~ Moon is in Sagittarius, going void trine to Jupiter on Sunday morning.  Today is full of overdoing, overabundance, pushing of boundaries, expansive, wild, and crazy energy.  Also, we're feeling very proud – we are prone to react vigorously to any disrespect, perceived or real.  If someone gets angry with you, ask them what they heard.  Mercury is now in Capricorn, so people are very literal.  Mercury is still out of bounds, so people are not listening well.  They are hearing fragments of conversations and jumping to hard conclusions where none may be warranted.  Venus squares Uranus midday.  She wants us to back away from some of our more wild-and-crazy choices, and to take a more conservative approach, as she travels through Uranus-Pluto square number six.  She joins up with Pluto in the afternoon, starting a brand new year-long cycle of increasing clarity around power dynamics and relationship triangles.  This also may mean an ending of longstanding partnerships.  As she starts a new cycle, she may choose to finish up an old one.  Sun's quintile to the North Node on the Galactic Center encourages you to take the ideas you're hearing and use them in new and profitable ways.  They are utterly inspired and tied to your destiny.  Jupiter's trine to Ceres is encouraging us to pursue our creative journeys passionately and to partner with ourselves and others in a new, productive way.  Venus's sesquiquadrate to Admetos says she's really in the mood to end something tonight.  It no longer works for her emotionally.  Mars's parallel to Saturn, and his sextile to Uranus, echo this story.  Just walk away if you want to.  You don't have to do anything dramatic.  The energy of the heavens marks this as a major time of release and ending.  It will take.
Sun's day Sunday December 21, 2014 ~ Moon in Sagittarius goes void with a trine to Jupiter at 7:35 am EST and Moon enters Capricorn on at 8:26 pm EST.  The Moon is void during the day on Sunday.  Another emotional, overdoing, except nothing will come of it.  Don't go shopping.  Whatever you buy will be much too expensive and you won't like it anyway.  There is just so much craziness and chaos in the sky, don't even try.  After the Fire trine between the Moon and Jupiter this morning, we have Uranus stationing direct at 12 degrees Aries at 5:45 pm EST.  No unattended candles!  Note that this is also the degree of Uranus's square with Pluto last week.  Sun enters Capricorn at 6:03 pm EST, the seasonal ingress, which may be read as predicting the next three months (the winter season) or the next year, depending on your understanding of ingress charts.  Personally, I like to use the Aries ingress in April as the astrological new year, but this time I might make an exception – this Capricorn ingress chart is pretty wonking powerful.  And there's a New Moon in Capricorn on the World Axis right after, at 8:36 pm EST, as well as a number of stressful aspects in the heavens – Mars semisextile Pluto, Sun semisextile Saturn, Mercury sesquiquadrate Jupiter, Uranus sesquiquadrate Pallas Athena, oh my!  Stay home and frost the Christmas cookies.  If you have to go out, add extra time to everything.  Everybody else is feeling wild and crazy too, and not necessarily dealing well with it.  Keep an eye out for the Ursids Meteor showers.  Meteor showers generally are experienced as piercing moments of consciousness as you watch falling stars flying through the heavens.  Again, no unattended candles.  A good use of the day would be to focus your vision and intent for the next year.  This is such a supercharged, highly energetic moon so stuff will manifest quickly, for good or bad.  Set your intentions in a positive and affirmative manner.  Recognize that people around you will be bursting into tears for no reason, arguing, and generally acting out of control.  We can also expect a major crash of some kind because Uranus is stationing.  We'll feel this energy for the next five days, and we felt it for the previous five days.  That's why this whole week has been such an anxious mess.  A fun anxious mess, but a mess nonetheless.
Anne's Three Radio Shows and Two Recommended Shows Recap:  Listen in to the podcasts via iTunes or by the website links.
Anne's Weekly Weather: Uranus squares Pluto.  Uranus stations to turn direct.  Sun and Mercury enter Capricorn.  Seasonal ingress ~ year or quarter!  New Moon on the World Axis. Venus and Mercury are out of bounds.  Ursids meteor showers!
Scorpios Talking:  We will be on vacation until January 8, 2015!
Access Astrology: Anne and Mark were there discussing the world events and taking a call from listeners.  We are on vacation until January 7, 2015!
Venus Unplugged: Llorraine Neithardt with Venus lessons for all!! For Jungians, dreamers, poets and visionaries this podcast helps with your individuation and your understanding of Venus!
CG Jung Speaks! There are great readings from Jung! Tune in!  Kendrick Norris, Ph.D. made a wonderful series. He reads excerpts from Jung.  If you are working on individuating, take the time to listen in!
Lynda Hill's work appears with her permission.  Check her out at Sabiansymbols.com.
Copyright© 2014 A.C. Ortelee